Introduction
Edit
Each monster kill yields a chance of dropping an item. After this, there is another RNG that determines what is dropped. In order to determine what these rates were, the game was taken from Armor Games and reverse engineered.
Will I Get a Drop?
Edit
dropRate = Luck + External Modifiers (equip, pots, etc.)
You get a drop if: random(80 + dropRate) < dropRate + 10

Analysis: if dropRate is 0, chances are 1 in 8. If dropRate is large, chance approaches 100%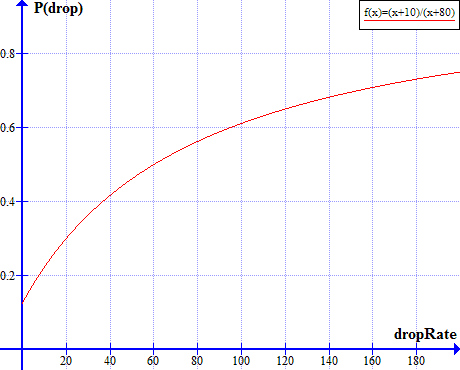 What Do I Get?
Edit
50% - A treasure chest:

25% - Equip of some sort (any one of 11 types of items determined by another RNG)

Quality of items is determined by more RNG's:

Level:

1% - Lv 4
2% - Lv 3
3% - Lv 2
4% - Lv 1
90% - Lv 0

Grade (affects composition times):

1% - grade 3
4% - grade 2
95% - grade 1

Potential attribute bonuses:

Weapons, select from bonuses: Fire, Ice, Thunder, Poison, Crit, Sp Recover, Hp Recover, Drop Rate, Atk Bonus, Atk Bonus %
Armor, select from bonuses: % SP, %HP, Hp/kill, Sp/kill, Def. bonus, %Def. bonus, Crit, M. Resist, Drop Rate, Block chance (shields only)

According to game code, Shields count as armor, but with block chance attribute, making it kind of a cross between Weapons and Armor in terms of this.

Accessories, select from bonuses: HP recover, SP recover, %Def, %Atk, Crit, Drop rate, Extra weight
33% -Weapon/shield
33% - Armor
33% - Accessories

Actual attribute bonuses:

1% - Give some stat random(3)+1, give some stat 1, give some stat 1.

Note that this is sequential, which means one may overwrite another. Further, since weapons may not have two elements, it may overwrite that too.

3% - Give some stat 1, give some stat random(2)+1

Again, second may overwrite first

6% - Give some stat 1
90% - No extra bonus

25% - Potion. For potions with size variants, 2% are large, 8% are medium, 90% are small

45% - Health
25% - Mana
10% - Rejuvenation
18% - Archangel
2% - Buff potion, equal chances of Alexipharmic, Defense, Attack, Magic Defense, Berserk, and Luck

10% - Crystal. 2% are large, 8% are medium, 90% are small

Equal chances of Fire, Wind, Earth, Water

8% - Return Scroll
2% - Book (Stat Level)

1 in 30 chance (~3.33%): Equal chance of Tome of Skill or Tome of Experience (500 exp)
Otherwise (~96.67%): Equal chance of Strength, Agility, Constitution, and Luck

3% - Stone. 2% are Holy, 8% are Soul, 90% are Blessing
27% - Nothing

50% - coins:

10 + random(level) + level * (random(3) + 1)
Thresholds:

Lv1: 11-13 coins
Lv2: 12-17 coins
Lv5: 15-29 coins
Lv10: 20-49 coins
Lv20: 30-89 coins
Lv30: 40-129 coins
Lv35: 45-149 coins